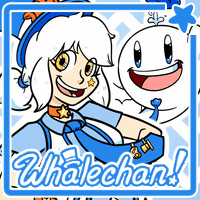 Whalechan ft. Polite Whale
Basic Info
---
Personality 🎭

Jolly, Happy & Sunny!

Occupation 💼

Whales And Games Game Developer

Likes 💕

Videogames, Sand Castles & Shark Movies

Dislikes 🗑️

Plastics, Cats & Mimes
Profile
---

Whalechan and Polite Whale are our mascots at Whales And Games!
Whalechan was born to unknown pirates and abandoned on the beach. A small and smart society of whales found and adopted her making her grow up in an underwater society. To stay entertained while underwater, she started making a small collection of videogames and playing them to have fun.

As she became an adult, she and her step-brother, Polite Whale started learning about game development and founded Whales And Games, their own game development studio. They have been having a whale of a time making games since!

She's very passionate about the oceans, and frequently enjoys giving a stroll on the beach, playing the video-game collection she amassed over the years, and just having a whale of a time! She also enjoys building sandcastles at the beach, eating sushi, and her favourite movie is Titanic! She dislikes mimes because they look scary, cats because they would eat whales if given the chance. and plastics because other species of fish get stuck in them.