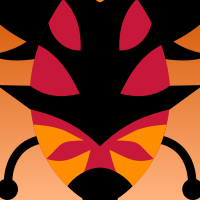 Basic Info
---
Aliases

Lady Komachi, Karmen Kami, Mother of Nature and the Arcane

Weapon range

Staves and scepters

Likes

Nature, floral patterns, companionship

Dislikes

Ormen Karmen, betrayal, upsetting of natural and arcane balance
Profile
---
"You know it's bad when my own students turned their backs on me..."
Komachi is the matron of nature and the arcane, some of her knowledge which blesses her people; The Karmen tribe. A number of these tribespeople once sported flora-themed masks as much as their animal-motif mask wearing brethren since the beginning of their civilization. Like Kaien and the rest of her friends, she was once part of an ancient council that united the four races of Rolitoland. It was, however, ruined by the jealousy and dissatisfaction of one of her own companions.
Komachi remained the leader of the Karmen well after the fall of the Ah-Oohs, and had at one point taken Ormen Karmen and Hukmen as her students. Unfortunately, Ormen ended up betraying her and subjecting most of the Karmen tribe into a dark age under his tyranny. What broke her heart was also when Hukmen fell victim to his mind-suppressing spell, and became one of his followers instead.
The staff she possesses is a reminder of her tutelage and bond with the two, and how it failed. She still uses it as her main weapon to this day, which is capable of lightning strikes, protective shield barriers and healing the injured. With Hukmen free of his curse and Ormen dead at the end of the War of the Traitor, the majority of her burdens have, at least, been lifted. She wishes that things would have been different though.