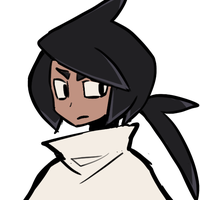 Profile
---
Fragile is a young adult with a curse of weak muscles and fragile bones. He was born with this curse because of the hourglass that was passed on within his family for generations.
Fragile is able to use this hourglass to protect himself. He has the skill to create glass out of sand and morph it to his will, and often uses it to create spikes or walls of glass to fight with or defend himself.
Fragile is fairly spoiled because of the money his family has. But he lacks sympathy when it comes to his adoptive brother Ripley. He sees Ripley as someone who stole his parents' attention from him, their real son. This jealousy has been with him ever since they met, and only time will tell if he will accept Ripley as part of his family.