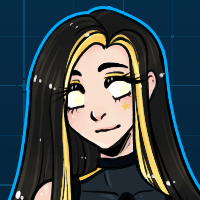 Profile
---
ZUI STARR
 "You can't win a game you aren't playing." 
---
 PROFILE
Name:
 Zui Starr
Age:
 18
Birthday:
 7/7
Species:
 Human
Gender:
 Female
Height:
 5'4"
Regiment:
 Ephemeral

Class:
 N/A
Rank:
 0
Random Facts:
- Popular electro-pop musician
- Born completely blind
- Has telekinetic powers that allow her to levitate herself, others, and objects.
- Has had Sento with her since birth, they are practically inseparable.
---
PERSONALITY
Quiet - Eerie - Petty - Playful - Eloquent - Manipulative
Outwardly, Zui is sweet and quiet with an eerie air to her, mostly due to her vacant gaze and pale eyes. She is well spoken, well mannered, though often playful with those she considers true friends/family. Growing up in the spotlight, Zui has learned to be quite manipulative and petty, using everything growing up in the entertainment industry has taught her over the years to maintain a comfortable lifestyle and get her way in less favorable situations. 
HISTORY
Manipulation - Child Star - Center of Attention
Zui has been in the spotlight since she was 5. Starring in films and advertisements, and performing in musical competitions are some of her earliest memories. She can't recall a time where she wasn't performing. While she started almost exclusively in acting, she really shone as a musician, preferring the live feedback of her fans during concerts over films she couldn't even see for herself. The entertainment industry hasn't always been a positive influence on Zui, however. With stardom came lecherous predators in the guise of managers, producers, directors, etc. She learned early on that it was manipulate, or be manipulated. Use, or be used. 
---
MAIN PARTNERS
Partner Slots 3
SENTO
Pokemon:
 Jirachi
Link to the registry:
 p#2554
Playful, protective, Sento is Zui's best friend and support. He also is her eyes, guiding her throughout life on the ship.
MANEKI
Pokemon:
 Meowth
Link to the registry:
 p#1732
Wired, fast paced, Maneki is more like a manager to Zui than a partner. She keeps Zui on task and on schedule alongside a Xeno-Meowth named Verse. She always seems to be well caffinated.
RORY
Pokemon:
 Amaura
Link to the registry:
 p#1730
Sweet, Playful, Rory is another partner Zui would consider her best friend. While she hasn't been around as long as Sento, she was also a frequent companion while growing up. She became Zui's partner after working with her in a movie.
---
ROLEPLAY METHODS
Methods: Discord
Style: Fiction Style
Status: Closed