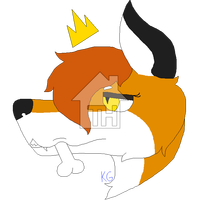 Profile
---
Do NOT draw her with a ring of white around her muzzle. The white extends to her cheek,and doesn't go over the bridge of her nose. And her collar is NOT a part of the gem on her chest. There's a difference.
TO ANYONE HERE TO SEE HER TOYHOUSE FOR ART REASONS,PLEASE USE THIS IMAGE FOR COLOR AND FACE REFERENCE,THANK YOU

She's a snarky asshole basically. She hates most people,but is a sweetheart if you get to know her. She has awful depression and anxiety,and is numb to alot of things. She always feels bad because people make her feel bad about who she is. If she had a dollar for everytime she told someone she had anxiety,and they told her they'd 'Bring her out of her shell',she'd have enough money to buy an island and seclude herself. She's been told many times that people are going to 'fix her'. She just wants to be left alone nowadays. She could probably use a hug.
Facts about her
-She's over 10 thousand years old
-HATES the ocean
-Is half angel and half demon
-Has nine tails
-She's a chubby girl
-Is my precious fursona
-She really likes cereal
-She also really likes animal crackers and gummy candy,and will eat tons of them both. Please don't give either of them to her.