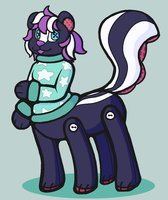 Profile
---
Button is a tailor! They're good at making clothes, and they especially focus on clothes for taurs and other critters who don't match the usual humanoid anthro shape.
They're good at working with fabric in general. They have a special power where they can put patterns of their choice on fabrics, and they use this when making clothes. Sometimes they use their fabric skills to help repair plushes that have been damaged or worn.
Button wasn't always a plush - but they deliberately turned themselves into one with a very rare magic paintbrush. They love using their new softness to give lots of hugs.