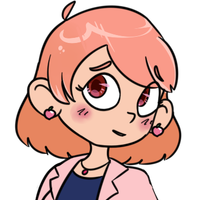 Profile
---
Name: Amia Rose
Age: 24
Gender: Female
Sexuality: Bi
Other names: Peachy
NATURE
Mannerisms
- Fiddles with hair when nervous
- Puffs up cheeks when frustrated
- Hides her face when flustered

Likes: Sweets, stuffed toys, cute or soft things
Dislikes: Confrontation, loud noises, disappointing others, cramped spaces, dead silence
Positive Traits: Loyal, honest, cheery, gentle
Negative Traits: Shy, cowardly, insecure
Hobbies: Drawing, reading, writing, gardening
Alignment: Neutral Good
Personality Type
Peachy is a shy introvert who tries to see the best in others even if they refuse to themselves. She believes in second chances, though she isn't quite so naive when it comes to certain circumstances. It's hard to make her really angry, but when she is, you'll know.

SOCIAL
Religion: None.
Politics: None.
Occupation: Part-time barista, full time friend
Favorite Color: Pink
Favorite Food: Sweets, pastas, and fruity drinks
Favorite Possession: A small stuffed rabbit named Halberd (from her nana)
Favorite Weapon: Tazer?
Favorite Animal: Kitty
HISTORY
Education: Graduated highschool, studies online
Background
Her parents didn't care much for her, and eventually she was forced to move in with her grandparents because of it. In the end she stayed with them until both had passed before moving out and living in an apartment in the city. Where she took up a part-time job as a barista in a little cafe and is attempting to graduate from collage with a medical degree as a nurse.

FAMILY
Mom: Unknown
Dad: Unknown
Siblings: None
Relationships: None
Pets: None
FRIENDS
None.
EXTRA NOTES