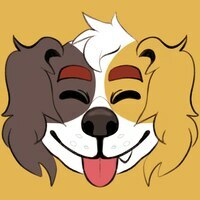 Profile
---
"Yeethaw! Welcome to Flavortown!" Said unironically, upsetting everyone involved.
Wulvie is a soft, goofy, but decidedly fancy spaniel. They have a big ego but a bigger heart. They have POTS, which causes fainting spells and fatigue, so they walk with a cane for support. They love Guy Fieri and also may or may not run a cult. We have no definitive proof that they run a cult called Wolf House, which is what it would be called if they ran a cult. Which they may or may not do.!
Personality
Extremely silly
Extremely sexy
Extremely caring
Ride or die for their friends
A little cagy about what they do for work
Suspiciously wealthy
Wulvie is very silly and very sexy.They can be elusive about their going-ons. They care deeply about the people they love, and will do anything for them. They may or may not run a secret cult for dogs called Wolf House. It may or may not have some interesting rules. There is an open house that you can attend.
Interests include: Iced Coffee, crowns, robes, wine, opulence, memes, minecraft, fair food (corn dogs especially).
Themes include: Royalty, mall ninjas
Background
Wulvie rose from the ashes of Notch's falling empire and is the new creator of Minecraft.
Wulvie started Wolf House one Halloween night when they shifted into their Hallowulvie form and realizeds they have SO MANY teeth.
They're secretly a youtuber/streamer and make a decent amount of money doing it, despite rarely uploading and being completely anonymous about it.
Trivia
Has the Most Teeth in wolf house, and keeps it that way.
Uses a walking cane.
Wulvie
General
Full name
Wulvie Flavortown
Nicknames
Wulvie, Wulverhouse, Wulbie
Orientation
What are you, a cop?
Life
Born
2/27, location unknown
Species
Cavalier King Charles spaniel
Occupation
Content Creator
Select Playlist
physics
Appearance
Height: short
Fur: Dark grey, white, gold, red
Eyes: Light grey
Build: compact and curvy
Wulvie is a short cavalier king charles spaniel. They are always flat chested and have curvy hips. They have fluffy ears that hang just to their shoulders. Their fur is grey on one side and golden yellow on the other. They have grey eyes with red eyebrows. Their muzzle is notably short, as is usual for the breed, with round shapes. Their tail is long and fluffy.
Hallowulvie is all black with red eyebrows and light grey eyelids. They have matte black horns and a mouth in their neck as well as where a mouth usually is.
Shiny wulvie is similar in design to default Wulvie, except the color palette is switched to pink and purple. They almost always are wearing gold laurel or a crown on their head.
Old designs of wulvie lack the gold in design, and have more red in their fur. Their designs are no longer in use, though still loved and recognized as Wulvie.