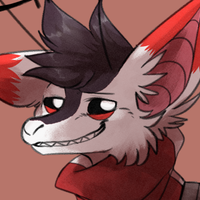 Basic Info
---
Age

As old as the universe itse- Early 20's
Profile
---
Extraterrestrial Agent of Chaos
She's talkative, she's energetic, she's mischievous. All very good words to use to describe Polaris on a regular basis. She's caring, but also loves to tease. Keep your phone away from her because she can and will paw at it. She's pretty dimwitted, but promises that she has her moments of intelligence and isn't just a sack of potatos with arms.
Everyone knows she's not from here, but one can't say for sure if she comes from space or somewhere more dimensional then that. Regardless, she lives within a self-created, imagination-controlled pocket dimension, but frequently travels around looking for friends and entertainment. Or food. Usually it's food. She'll happily shovel rocks into her mouth if she can't find anything else so do be sure to leave a snack on your doorstep.
Within her cozy pocket, she takes on a more... all powerful presence of sorts. Or she tries to take on a more all powerful presence. She shoves herself into her personally crafted "godly work attire" and shouts about deity stuff and how she infact is one but no one takes it very seriously.