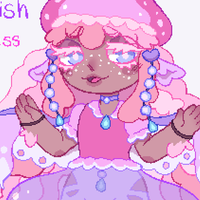 Profile
---
Original Owner: spis
Current Owner: LoverBoyii
Designer: kkkkatze
Rarity: Blessed

Traits: Blessed Ornaments, Glowing Markings, Blessed Tail-tip

Toyhouse Link: https://toyhou.se/15110067.jellyfish-princess-adopt


Wanting to transfer a character? Simply comment on the character's profile and fill out this form!

Previous Owner: (your username)
New Owner:
Method of Transfer: (trade, gift, etc etc).

The new owner MUST reply to the form confirming this!