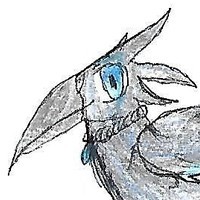 Profile
---
Race

Alien(will edit with more lore)
Half of One
A being capable of the creation of worlds and life forms, Mythos is the powerful overseer of a collection of dimensions alongside her brother, Polaris
She lives within a dimensional void of her and her brother's own creation. This void takes on whatever shape the residents desire. 
To help keep the dimensions maintained, she created gods and goddesses to oversee them, many of which you will see scattered around this TH.
Unlike her brother, she is very upbeat, outgoing, and sometimes too trusting of others.
AWAITING MAJOR DESIGN UPDATES