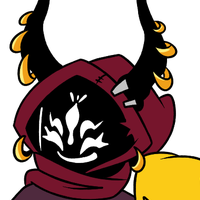 Profile
---
Name: Yǐng - clever, skillful, shadow
Age:
Gender:
Race: Shadow Demon
Other names:
NATURE
Mannerisms
-
Likes:
Dislikes:
Positive Traits:
Negative Traits:
Hobbies:
Alignment:
Personality Type
POWERS
Name:
Description:
Weakness:
SOCIAL
Occupation:
Favorite Color:
Favorite Food:
Favorite Possession: None
Favorite Weapon: None
Favorite Animal: None
HISTORY
Education:
Background
A being trapped within an object, only to be released several decades  later. They wield the same shadows Macaque does, or rather, the shadows  wield them, as it is apparent they succumbed to madness over the course  of their mastering of it.
FAMILY
Mom: Unknown
Dad: Unknown
Siblings: None
Relationships: None
Pets: None
FRIENDS
None.
EXTRA NOTES
playlist
Umibozu
Betrayed Me
Release Me
A Darker Fate
Trickster Theme