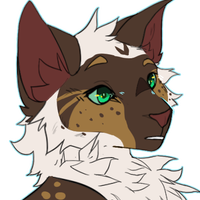 Basic Info
---
Species

Feline (Domestic)

Personality

Thalia suffers from anxiety, and doesn't talk much. She has a kind heart, but tends to stay away from people (though there are exceptions to this). She often feels restless and explores the world in order to keep the feeling at bay.

Other

Explores ancient ruins and forgotten places. On one of these journeys she discovered a small amulet- When touched, the amulet began to glow blue and Thalia could see a large fox-like creature staring down at her. The Spirit implored Thalia to take the amulet with her, so that the Spirit may once again see the world instead of rotting away in a ruin.

Design Notes

Nature-themed accessories welcome!