Profile
---
About
Managing to make connections all over the universe, he remains a giddy personality to be around. He is not the smartest person in his group of friends, but he is quite clever with his ideas. His zeal and motivation pushes him to dream of near impossible things to consider. Only he could take the credit for thinking up "transparent metal safes that make things inside them also transparent."
Of course, one thing remains a mystery... How does he find all these friends? Perhaps a conspiracy against him is in order. After all he has several different robotic left arms for his missing limb. He has very basic knowledge on space faring, can likely explain how a mechanical object from the industrial era works- but with no proper terminology, and manages to have a joke no matter the situation. Is he a time traveler or universe hopper of sorts? Some would dare ask him, but shrug it off understanding he's probably too stupid to even explain it himself.
Related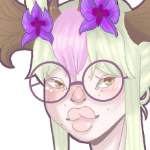 Minty Babbit ( Girlfriend? )
There is a mutual crush, but it is unknown how often they date. It's believed that he "crashes" at her place of residence.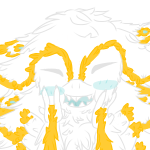 Kyrie Scraw ( Close Friend )
This feather raptor is to blame for Rilenan's space knowledge. The time period of their travels together is unknown.