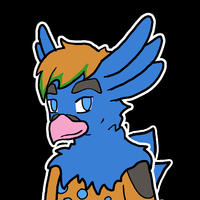 Created

1 year, 4 months ago

Creator

Favorites
Profile
---
For ToS and more information regarding my adopts, please see my website; http://www.gnotknormal.com/adopts
::Character Info::
Name*: Euxy
Species*: Griffin
Gender*: Unassigned
Pronouns*: Unassigned
*these can all be changed by the new owner
The purchase of this character includes the feral and anthro forms. Upon purchase you will get 3 full reference sheets; feral form, anthro form and clothed anthro form. 
Further samples and previews can be provided on request.
::Bid Info::
Bid ends: Bid ended with no buyers. OPEN TO OFFERS - just send me a message. Bid will be re-started soon so grab your chance!
Terms;
Auction may be listed in multiple places

Bid end date may be extended/closed early


Buy now option available for reasonable offers
::Bonus!::
If the bid for this character goes above £75, 1 piece of artwork of Euxy will be added on for free!