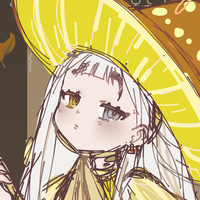 Basic Info
---
NAME

Erysiphe Vanilopa Exidia

AGE

476 years old (physcial appearance: 13 years old)

SPECIES

Partially deceased human witch

PERSONALITY

Calm introvert

COLORS

Golden Fizz (#E6D930), Pirate Gold (#BB7E2B), Cement (#8B7355)
Profile
---
Created with twitch chat (2022/08/31)
Initially based on the "Let's build a witch!" prompt by Katsuotsukki
Color scheme: Autumnal (suggested by NuclearWinterUK)

Witch type: Fungus witch (suggested by Seidoragon)

Hair: Long (suggested by scsa2020)

Outfit / Style: Lemon (suggested by haveneuh)

Wand: Mushroom branch (suggested by mr_indig0)

Familiar: Gecko (suggested by cherifish)
Extra design suggestion: 
Sleepy / Bored eyes (suggested by Sakatchi)
Lore suggestion:
"I fell asleep a bit and imagined she's a partially-deceased witch whose body got overgrown by the fungi she cultivates. She and her fungi now formed a symbiotic relationship, and the fungi cover all parts of her body that she loses" (Faixit)
"General prompts"
First name: Erysiphe, nicknamed Ery (suggested by AnbaLen)

Middle name: Vanilopa (suggest by ckizz_art)

Last name; Exidia

Real age; 476 years old (suggested by suponjiii) | Physically: 13 (suggested by ckizz_art)

Height: 152cm (suggested by NuclearWinterUK)

Personality: calm introvert (suggested by ckizz_art)

Gecko's name: Cordyceps, nicknames Cordy (suggested by mr_indig0)
Design notes
The inside of the hat, the upper part of the torso, the sleeves and the socks' patterns are hinting at what citrus looks like when cut open.

The skirt is made of fowl fungus. The belt consists tree bark.

The red/orange parts of the clothing with white dots (hat, part of the shirt, sock ruffles) are taken from amanita.

The frills/ribbons related to the hat is inspired from a fungi photography taken by Steve Axford, but I have yet to determine what kind of fungi it is exactly.

The fungus growing on Ery's left thigh is supposed to be bracket fungi, and the ones tying her braids are (most likely) white buttons.