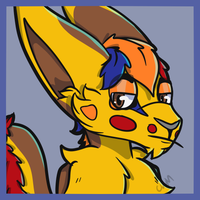 Profile
---
OCCUPATION: Engineer/technician
PERSONALITY
 - Bazdy is grumpy, nice when necessary, isn't afraid to state her opinion and she can come of a bit of a jerk.
- She only cares about those who are close to her. But is generally understanding and patient about others situations. Bazdy puts big importance on thing that belong to her and gets mighty upset when they are stolen or go missing.
- She has slight hoarding habit and thinks that many things she has saved up will come in handy. They often don't.
APPEARANCE
- She's around -m./-ft. tall
- Bazdy is a bipedal cat like creature called "A Dacut". She's same species as Amir and Roll.
- Her facial structure similar to an Oriental cats.
BACKGROUND
- She's a skilled engineer/technician.
- She is married to Amir.
- She's has a mother, a father and 6 siblings. She's middle to last child of her family. Siblings closer to her age often took away her stuff and barely to never returned them, her parents could do nothing about it because they were preoccupied with their jobs or her siblings nonsense. That caused her to develop trust and hoarding issues.
MISCELLANEOUS
- She likes to wear clothes similar to these: