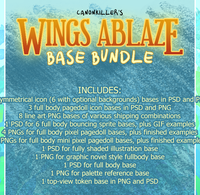 Profile
---
A collection of bases inspired by Wings of Fire, including many no longer available individually.
---
This bundle includes, in a .ZIP file:
- 6 symmetrical icons in PSD and PNG format for IceWings, SkyWings, MudWings, SeaWings, SandWings and RainWings
- 1 PSD headcanoned symmetrical HiveWing icon
- 3 full body pagedoll bases in PNG and PSD formats for MudWings, SkyWings and SeaWings
- 8 line art PNGs of various ship art pieces modified for base use (included as a bonus since they were lined with specific characters in mind, and may not be applicable to OC designs)
- 1 PSD file including pixel bounce animation bases for SeaWings, SkyWings, SandWings, MudWings, NightWings and RainWings, and finished GIF examples
- 4 full body pagedoll pixels for SkyWings, SandWings, and SilkWings (with and without wings), plus finished examples
- 7 PNGs for full body mini pixel pagedoll bases, plus finished examples
- 1 PSD for fully shaded illustration base
- 1 PNG for graphic novel style fullbody base
- 1 PSD for full body base
- 1 PNG for palette reference base
- 1 top-view token base in PNG and PSD
---
Joining my membership tiers grants access to all items in this pack, as well as my other resources! It is not necessary to purchase this pack if you are already on a tier receiving base access benefits.
---
Please refer to my
Terms of Use page ( canonkiller.com/tos#basetos )
when necessary. Thank you!