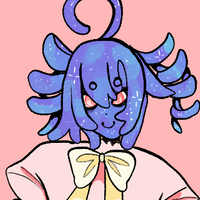 Profile
---
D'yahvsief is, officially, a Morale Officer, in charge of keeping the spirits of both Military and Civilian crew up through the management of events and programs.
The word changed significantly after the transfer of the Navigation Division - several were transferred to her direct supervision, leaving her administrating more than performing her original duty. Some were experienced, others needed mentoring - but it's been years now. Her basic duties now are making sure everything doesn't happen one night.
In a side step, she started vtubing - as a loophole, though she definitely isn't permitted to show her actual face on stream, her main avatar is very close to the form she takes (and clothes she wears) around the ship.
As her vtuber persona is a 'slime', most of her streams involve a video game with slimes at some point - with her 'advocating for her people' when she's forced to engage them.
Currently, on stream, her long-term goal is a "100% Goo" run of "Sam's Galactic Adventure" where the titular character is permanatly swapped out for the utility character - Gooey. This includes killing enemies with a character that's not meant to kill anything. Incedentally, the movies the game is based on are well known across the ship because of D'yahvsief's scheduled showings.