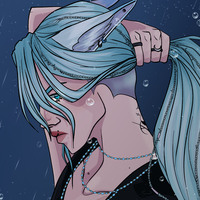 Profile
---
Name
Kelmira Alyssae Feraia
Gender
Nonbinary (any pronouns)
Height
6 foot 5 (195.58cm)
Alignment
Chaotic Neutral
Emotion
Sardonic, Playlful, Confident
Likes
Rainstorms

History and Linguistics

Pub Crawls

Cool Weather

Contests/Competitions

Spicy Foods

Floral, Woodsy, O-Zone, Oceany smells

Cuddling/Physical affection
Dislikes
Losing to her brother in Mario Party (or any game really)

Mornings

Clowns and Mimes

Being hot/Too warm

Talking about herself/her feelings

Overly sweet foods, or most Sweet-Savory foods

Boring contracts
Skills/Hobbies
Yoga

Playing drums

Metal Working

Rapping

Ambidextrous

Playing video games or board games

Aquakinesis, Minor Cryokinesis, Regenerative healing factor, Water breathing, Supernatural swim speed, Waterwalking, Shapeshifting, Minor Void Manipulation, Minor Asterokinesis, Minor Nihilikinesis, Void Step (blink)
Trivia
The hearts by her relationships have less to do with how much she cares about an individual and more about how close she lets them get to her.

She is not one to turn down a challenge and is very easy to rope into competitions.

She will try anything at least once.

Her two biggest fears are: Letting down or being unable to protect the people she loves and getting separated from the people she loves/lost and being completely alone and never found.

Vestibulum auctor dapibus neque.

Nunc dignissim risus id metus.

Cras ornare tristique elit.

Cras ornare tristique elit.

Vestibulum auctor dapibus neque.

Nunc dignissim risus id metus.

Cras ornare tristique elit.
Appearance
Kelmira has an intemidating figure; Tall, with long and strong limbs and a muscular-athletic build. Her skin is pale and rosey covered with moles. She has angular facial features with large blue eyes that are typically resting half-lidded. Her luxurious ice blue hair goes down to the back of her knees and is kept up in a pony tail or a braid when working, revealing a fresh skin-fade. She has two slender fox ears that start where human ears might, they have white fur with ice blue tips. Her long, fluffy fox tail matches her ears in coloration and pattern. When she is in unfamiliar environments she will hide her ears and tail, sporting pointy and expressive elf-like ears. Her teeth are sharp and canine-like. On her right upper arm she has a tattoo that signifies her posistion in the organization she works for and on her left hand and lower arm she has two tatoos that seem connected representing her pact and connection with Demon and Haku.

Design Notes

-She always wears a necklace that consists of an extra long black chain looped at least three times around her neck. From the chain dangles a white crystal with blue, mystical water inside.

-On her right wrist she always wears four bracelets: One thick-braided brown leather, One thin leather strap, two beaded bracelets consisting of white and blue beads.

-On her left wrist she always wears a high tech, sleek black watch that has been customized to have blue accents on and around the face.

-She has three piercings on either ear. Her right ear has two lobes and one helix, a chain typically connecting the helix piercing to her first lobe piercing. Her left ear has lobe piercings and a inner conch. She also has her nipples pierced.

-Her clothing style ranges between grunge-punk and streetwear/athleisure. She typically sticks to blues, reds and blacks. She likes to layer clothes and tends to wear very loose, often oversized tank-tops under a button up and a jacket. Her pants are either dark/black jeans or various types of sweats/athletic pants. As far as underwear goes she prefers boyshorts, boxers, or anything strappy with either sports bras or simple bras with straps. She gravitates towards more neutral or masculine clothing options, although she isn't necessarily opposed to dressing more feminine - it just depends on if the outfit speaks to her.

Skin: #F4D9D8

Eyes: #198EF2

Hair: #D0E9F3
Personality
Self Sacrificing . Cunning . Impulsive . Adaptable
First impressions of Kelmira typically consist of a mix of 'Wow, what a bitch', 'Scary', and 'She doesn't care about anyone except herself' - and for the most part she is fine with and even approves of these impressions. She cares very little about what people think of her and prefers to appear unaproachable so that she can be left alone and appear too intemidating to be worth messing with. She speaks quietly and often without much inflection so that she sounds either tired or bored, and will rarely emote except to look either more irritated or less enthused about a situation. Kelmira is confident and very competitive, unable to turn down a challenge - especially if she feels her reputation is at risk. She comes off as cold, sarcastic and bitter - but those closest to her get to see a completely different side.
Kelmira is very easily amused and quick to laugh or joke, often starting prank wars or being the first to start teasing her friends. She is very selective of the people she lets in behind the walls she has carefully built up around her and is very loyal and affectionate, there is very little that she would not do to make the people she loves happy and keep them safe. She has a very loose view on morals and follows her own code, willing to take risks and make whatever sacrifices she needs to. She can be very selfless and self sacrificing to the people she cares for, a trait that took hold in her after the deaths of her parents. Together with her twin brother Jak, she needed to keep her younger sisters safe and in many cases that meant doing without to ensure that they were able to thrive. Even now, despite the security that they now have, she makes it a priority to ensure that her siblings are well cared for and protected. Part of her desire to continue looking out for and focusing on the wellbeing of her family is out of fear of losing or failing them but also out of fear of having to actually focus on herself and deal with her own issues. At her worst, rather than attempt to unpack her issues or reach out for help she opts to push it all down and bury it under deep layers of alcohol. She has the tendency to emotionally isolate, letting even the people closest to her only so close before making sure another wall keeps them safely away from her anxities and insecurities.
Story