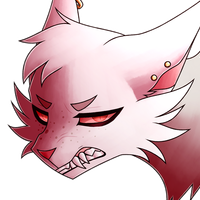 Basic Info
---
Species

Feline (Domestic)

Personality

Marshall is strong-willed and cynical, and will often speak their mind on things. They are not afraid to show their emotions, and have a short temper. However, she can be quite tender once she gets attached to someone, and is very loyal.

Other

Marshall is infected with a virus that causes the infected to crave raw meat. Most lose their minds, but Marshall remains lucid. Sometimes, though, her control can slip and she becomes just as mindless as the other infected.

Design Notes

Her paw markings are a different shade than the other markings. All accessories are not optional.

Regarding Anthro

Can be drawn anthro! Wears loose, comfortable clothing. Spikes can be omitted or, if included, rip through clothing.