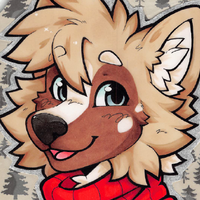 Profile
---
dilly, woof
they/them
21
5' 8"
ausky
pro hugger
friendly
Woof is a happy, friendly, outgoing Australian shepherd/husky mix who loves to make new acquaintances! They have lots of indoor and outdoor hobbies, but most of all, they love hanging out with their best friends, gaming, streaming, and working their three strenuous animal care jobs :')
They love to listen to and tell stories, go on long car trips, and learn new things! They also play a lot of Pathfinder and occasionally some D&D. (Pathfinder's better though.)
Woof struggles with anxiety and depression. They really need time outside, so they're happy to go on a hike or a bike ride with you, if you'd like! They like winter best, and they hate the heat. (Much too warm for this fluff.) But they're always down for an adventure!
HTML by Eggy