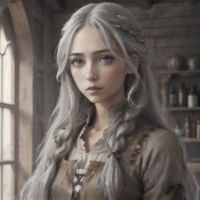 Profile
---
"Life is the best teacher, and the best lesson, experience."
The Pariah ?? "Priestess" Etrien
passionate, devoted, charming
A woman of unknown origin but known creed. A so called "priestess" to Kilazath and Boazathoth, she lives in destitution in service to the religion. While she spends most of her time in fanatical reverence to her gods, if you catch her in a good mood, you willl find a courtous and disarming lady who goes out of her way to assist wherever she can, be in providing clothes for street urchins, food for a struggling mother, or hope to the dissilutioned.
Most accept her bizzare veiws in light of her kindness and charity, but some have taken suspicion with her choice of affiliation.