Basic Info
---
Name

[Real name not known]

Team

Light blue / turquoise / Black

Weapons

Dynamo Roller ( Splatoon 1, 3 )

E-liter 3K ( Splatoon 2 )
Profile
---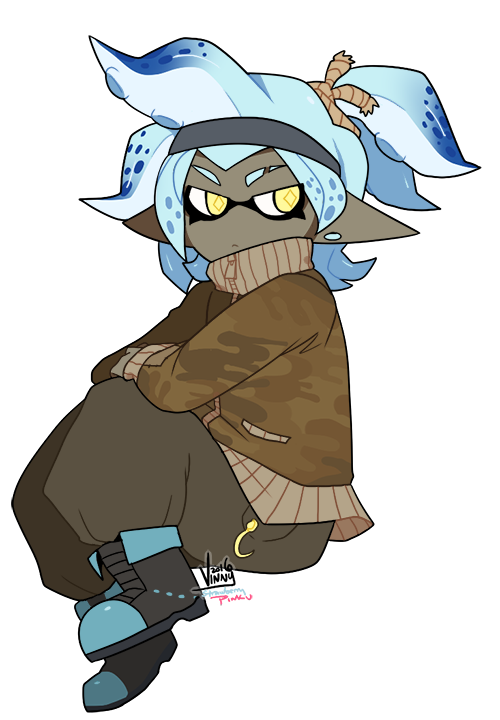 Splatoon 1
Normally keeping to himself Robo is a mute inkling that uses sign language to communicate. he often stays back keeping a close eye on teammates, though he is not open at all about his interests or personality his strong protective attitudes suggest he cares. Part of a professional battle team he plays the team's support role. A bit of a rebel he often goes against the orders of their team-captain; Sugar. Not a fan of Octolings he is has been fighting with Rhubarb of Octo-valley for a few years now. 
Robo has a bad smoking habit but never does so around others but often he will chew on a stick or twig during battles or standing in crowed places. When not preparing for turf or anything he is often found by himself in the alleyway with the soda machine next to Shrimp Kicks.
- - -
Splatoon 2
Now retired from professional battles, Robo spends most work days as a egg collector for Grizzco Industries. When not at work he can be found relaxing near the Metro-station entrance.
He was the first inkling Thorn came across when coming to the surface, taken back by the sudden arrival of an Octoling who was just interested in the clothes he wore, Robo began to truly reconsider his feelings towards the Octo-army.
- - -
Splatoon 3
Now friends with Thorn, Robo sought help in finally contacting Rhubarb to put their rivalry to rest.
- - -
Robo's Dynamo
1-2
Robo's first and most iconic weapon is his Dynamo roller: recognizable by the small Orange squid charm tied to the very end of the handle.
After it was damaged in a match he retired from competitive Rainmaker. Shortly after the model of roller was discontinued and no longer being accepted in tournaments or even Turf war, The Inkling was unable to have it repaired and it remained stored in his apartment where he still polished it daily.
3
With help from an Octoling as a surprise gift, the Dynamo is repaired and upgraded returning as part of Robo's kit once again.