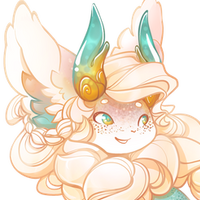 Profile
---
Sweet • Calm • Cheerful
---
---
---
Hair : [✦✦✦✦] -Ear Fluff : [✧✧✧✧]
Tail Size : [✦✦✦✦] - Tail Style : [✦✦✦✧] Grove
Crown : [✧✧✧✧] - N/A -Total MP : [11]
Rank : Noble - Stage : Adult
Gender : Unrestricted
[Hereditary Traits]
[Mutation] Dual-toned anima
[Mutation] Leggy fluff
[Mutation] Maned
[Mutation] Twin tail
Personality: Latte is literally a little cinnamon roll. He is very gentle and extremely patient, and enjoys being in contact with others very much. He can spend hours listening to someone talk. He was a bit of a kittom victim, and despite his lovely status as a brand new noble and his new role as a father, he is still teased (especially by Aile, his sister and his own children-) Completely daddy cake that said, he is often reprimanded by milky because he gives too much sugar to kittoms ...
Competence: He has a double profession, one a doctor and the other a pastry chef, and he often combines the two. He mixes his medicinal herbs in his baked goods, in order to sweeten the pills! (which makes it very popular for kittoms) He owns a nice pastry shop on Palu'au Island, but goes on an adventure regularly to replenish stocks of medicinal plants!
Links: Aile is his companion, and he is often embroiled in her eccentric ideas and her energy! They are parents of 4 children whom he loves more than anything (and whom he spoils too much) His family is very important to him, and he keeps a close bond with his sister nozomi (who often upsets him with her boundless energy) He loves the little caravan very much, and is full of affection for the elnins there. He often comes to see Hed to ask for advice on the presentation of his shop, his garden or the education of the little ones! He grew up under the wing of Milky, who almost wears a mother figure to his eyes. She often helps him to deliver his pastries or by bringing back small stocks of medicinal plants from her travels.
---
Write a quote or tagline here....
HTML by Eggy