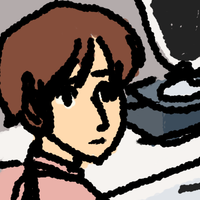 Profile
---
Alias: Vehicle-Man (What, your first super name wasn't totally embarrassing?)
Age: 16
Height: 6'
Weight: Um.
Occupation: barista at Keter Kathy's Cupcake Cafe
Trademark: necktie cape
Favorite Food: KK's coconut scones 
Favorite Musical: Spider-Man: Turn Off the Dark
Ability: psychokinetic control of motorized modes of transportation
The son of a now-divorced hero/villain power couple. An anxious mama's boy and aspiring set designer. For reasons mysterious to him, his entire school is convinced that he's a Cool Kid.