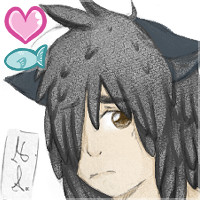 Profile
---
Artfight number: 778655
https://artfight.net/character/778655.haruto
Son of of a cat, and son of a tengu.

Haruto is a mix breed, within a society that doesnt allow the mixing of races. He was raised by his mother secretly.  

He is a scardy cat, but very sweat. The boy is always nervous around people. He is slow, and does everything he can to be out of the way..