Profile
---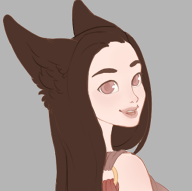 Personality
---
The epitome of friendliness. Upbeat and optimistic, though sometimes nauseatingly so for others. It's hard for her to see evil in the world. She loves listening to stories and learning new things, including new skills. She can be a bit gullible at times due to her naivety, but she's still incredibly observant and sharp. A very quick and eager learner who's hard not to get along with. She's also incredibly forgiving and seems incapable of holding a grudge or harboring hatred. She is often easily comparable to the demeanor of a happy dog.
Pronunciation DHAR - kah
Pronouns She/Her
Race Anomaly Human (Homebrew)
Class Rogue, Artificer
Subclass Scout (Rogue)
Age 7 (fully matured)
Height 5'0" (without ears)
Do Draw Them
---
Happy/excited/peaceful/bashful/etc

In any outfit (existing or otherwise) that suits her

Smol™
Don't Draw Them
---
Angry/fierce/anything more negative than "pouty"

With small, cat-like ears

In a corset or any other outfit that she would feel restricts her movement
Notes
---
Caucasian. Rather fair skin, though usually with a glowing blush about her complexion. Physically fit, with lightly toned muscles from a lifestyle of worldly exploration, though still maintaining an overall sleek build. Skin is oddly soft; while her body is about as physically and chemically mature as about a 20 year old, she has only had said body for a few years, and it lacks "wear and tear" so to speak. Dark brown hair--straight, no bangs, usually parted in the center, and hangs to about mid-back. Eyes are a soft, peachy pink, almost like rose quartz. Her ears are like those of a fox, though stretched somewhat taller than natural, and are the same brown as her hair. She also has a thick fox tail--once more the same shade of brown, but with a creamy white tip. In the fall and winter, the tail (and a tiny bit of her ears) take on a somewhat frosted look, with silver hairs appearing throughout the fur, and the overall color paling a little. Through spring and summer, however, the fur sleeks out and deepens in color, sometimes appearing almost black. Her fur always sheds a tiny bit--but twice a year, at the changing of seasons, the shedding increases dramatically for a couple weeks while her new fur grows in. She finds this pretty annoying.
She has a fairly pleasing hourglass shape to her torso, with approximately B/C cup breasts. Her nails grow in a natural point, but not unusually long. The nails themselves are a bit stronger and thicker than normal, and can be used effectively as claws (albeit, rather dull ones). Her canine teeth (upper and lower) are similarly pointed, but not any longer than would be natural. Neither the tips of her claws or her fangs are notably sharp, just gentle points. Daarka is completely void of any bodily hair from the neck down (sans her tail fur, of course), which makes her skin even softer.
Detailed Info (Not Required for Art) ♡ Q&A (Not Required for Art)
Links
---
Palette
---
Moodboard
---