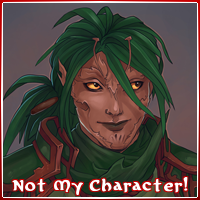 Basic Info
---
Title

The Count of Coveting

Previous Title

The Count of Auspex

Build

Tall; muscular without being bulky about it.
Profile
---
APPEARANCE:
His leafy skin is burgundy-colored, almost a wine-red with long forest green fronds that hang down around his face and are usually tied back in a loose ponytail along with a few cattails. His bioluminescence is an amber orange-yellow that shows prominently beneath his cheekbones in particular, and makes his equally amber eyes glow like lit coals. He has a pair of delicate antennae on his brow in the shape of a flower's stamen, the tips of which also glow with his bioluminescence. He can usually be found wearing heavy grown armor and wielding a spiked mace and a large shield.
PERSONALITY:
Ilex has all the qualities you tend to find in an ideal leader - Someone who is charismatic, trustworthy, and loyal, but also doesn't have any interest in power or authority. He tends to come off as the responsible one most of the time, but his podtwin has a particular knack of bringing out a more mischievous side of him... Which usually involves him following his twin into trouble and then being the one to talk their way back out of it.