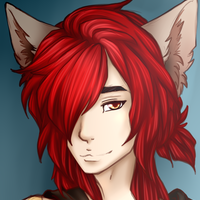 Profile
---
Basics
---
Born in China, Kija moved to Silvelea with his mother, father, and younger brother. He'd been practicing guitar since he was six when he was given one for his birthday. He started singing around the same time. He knows both English and Mandarin and is fluent with both. He and his brother decided to start a small band named Panda Lily. He joined Enigma Entertainment with Ryder and they started their musical careers. He's since moved into his own house with his mate, Eve.
---
Likes
Music
Spending time with family
Travelling
Spending time with his fans
Dislikes
Hot Weather
Hostile People
Liars
Facts
Kija came up with his stage name because of his facination with the Japanese Cherry Blossom trees. The surname "Kuro" comes from the Japanese translation for "Black". "Kuro, Cherry" thus translates to Black Cherry.
He is left handed but is ambidextrous.
His hair is naturally black but he dyes it red constantly.
He likes to do voice acting but hasn't gotten any serious roles for it.
He likes to write fiction novels, though he hasn't published anything.
Addresses
Home
1802 Aurora Route, Lovettsville, Silverlea
---
Work
1522 Crown Boulevard, Silver Summet Heights, Silverlea
---
Misc
content
---
Misc
content
---
HTML by lowkeywicked