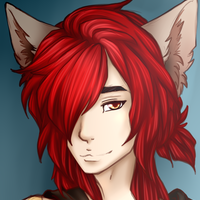 Profile
---
PROFILE
Born in China, Kija moved to Silvelea with his mother and father. His parents married Jeremiah when Kija was still a baby, so he grew up with a mother and two fathers. He sees nothing wrong with having multiple fathers and grew up telling people so. When his younger brother, Ryder, was born, he connected with him immediately, promising to protect and help take care of him. He still does in the present day.
Kija and Ryder started their band, Panda Lily, shortly after they both finished school. Kija took two years to get an associates degree in music, while Ryder also went to college. Afterwards, they joined a record label and began making music. It didn't take but a few years for Kija to get bored with Panda Lily's music for their label. When Kahir offered them a contract at Enigma Records, he happily dropped the Panda Lily name and started Starshower with Ryder at their new company.
Kija met his mate, Eve, in high school and quickly fell in love with him. Eve is the light of his life and does everything he can to make him happy. Despite being an alpha and Eve an omega, they chose to wait to start their family until they were older and more settled into their lives and careers.
---
PERSONALITY
Kija's very carefree and loves to be around people. He will surround himself with family, friends, and even fans.
Despite his brilliance with music, Kija can get bored quickly, making him push himself harder to succeed in his goals. The last thing he wants to do is get bored and fail.
He's got more energy than he can handle at times, and this energy is either spent through music, family or friend time, or sex.
LIKES
Music
Spending time with family
Travelling
Spending time with his fans
DISLIKES
Hot Weather
Hostile People
Liars
Bland Food
FACTS
Kija is left handed but is ambidextrous.
His hair is naturally black but he dyes it red constantly.
He would like to do voice acting in the future.
He can play Piano, Guiatar and Drums.
He can speak English, Mandarin, and French
ADDRESSES
Home
1802 Aurora Route, Lovettsville, Silverlea
---
Work
1522 Crown Boulevard, Silver Summet Heights, Silverlea
---