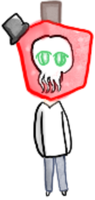 Profile
---
generator land is a big suck:
Poison object head boy who wears a tiny top hat and needs Shirt
(sounds like a galarian koffing/wheezing but sike im not doing that lmao)
lit an anthropomorphic poison bottle so um. check your vision lmao.
when people think TV heads are cooler than poison bottle head: this is outrageous! it's unfair!