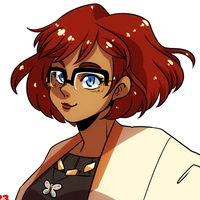 Profile
---
About
A bakery owner who makes some damn good cupcakes. Kate owns Kate's Bakes, a business she runs with her father. Kate actively employs people who have a hard time finding work elsewhere: drug addicts, the homeless, people with criminal records. She's a strong advocate for justice and equality and the bakery is just one small way she feels she can help the community.
When she's not working, Kate enjoys the nightlife that Manhattan has to offer. A friend of Justin Hallworth's, she often frequents his night club. Although she does not take commissions, she does sell some of her paintings on the side - but most end up decorating the bake shop.
Personality
Kate is a goal-oriented person, and she likes to get things done. If there's a problem, she won't rest until she has a solution. When it comes to the community especially, she's constantly working towards a goal of making it better. She loves New York and its people, and she's happy whenever she can do something to help them out.
Although her expectations for herself are high, she's very easy-going and forgiving when it comes to others. Kate offers a sympathetic ear and a shoulder to cry on for any friend who needs it, and she'll do her best to help you through whatever problems you may be having. That said, it's harder for her to open up to others in the same way; she doesn't like troubling anybody else with her problems.
Outside of work, Kate likes to let loose and have fun. While not a big party girl, she does enjoy the occasional night on the town. Quality time with a good friend is always good, though, even if they're just hanging out at home. A true extrovert, she's happiest when she's with other people, and she hates spending time alone.
People tend to think Kate would be a more serious type of person by the way she holds herself. That makes it all the better when she cracks a good joke, she thinks.
Design Notes
Kate has short, red hair and light blue eyes. She wears glasses! Her eyebrows are semi-thick and dark.
Her fashion leans to the modern trendy side, but she prioritizes comfort and function above all else. Always wearing some sort of necklace or bracelet.
She has light freckles on her face and upper shoulders.
Small dogs
Cornbread
Fashion
Charities & community events
Reading in the park
Painting
The rain
Corduroy
Most insects
Public speaking
Oil paints
Laziness
"I think you can learn a lot from a person based on the desserts they like."
Background
Ashkenazi Jewish
Backstory
Kate was an A+ student, eager to learn and always on top of her homework. Her favorite subjects were math, because she loved figuring out the solutions to the problems, and art. She loved painting from a young age, and took to it as a form of stress-relief. Kate went to college intending to get a degree in art history, but despite her love for the arts, she just never could motivate herself to get into it as a profession.
College, at least, helped her get into social justice issues, particularly those surrounding her home state of New York. She began to study this as well, and although she finished her art history degree, she came out of it wanting a whole different kind of profession. With her father's help, she opened up her own bakery - Kate's Bakes - with the vow to help out people who really needed it.
College was also where she met her boyfriend - now fiancé - Joshua Trotsky. Joshua went to school for a graphic design degree, and when she opened her bakery, Joshua is the one who designed the logo and the menu.
Birthday: August 4
Kate's concept came to me in a dream! She and Justin were part of the same dream.
tba
tba
tba
tba
profile html by Hukiolukio