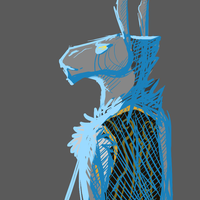 Profile
---
Basics
Al'Ahrai, known as Allanwen'Ahrai only to those closest to him, was a well-loved king of the Phooka during the final years of the Dragon Wars. He was born to Queen Kel'Ahrai and King Tuk'Ahrai as the eldest son, and thus was taught how to lead from a very young age. Despite the insulation of his upbringing, he routinely put the needs of the people above those of the royal family, until his death after the war. 
His legacy was carried by the bloodline of his younger brother and sister; Al'Ahrai himself had no known heirs.
---
Appearance
Al'Ahrai is a Phooka, and has an ordinary appearance for his kind. He has bright yellow eyes, and warm gray fur that darkens along his back, shoulders, nose and ear-tips. White patches grew in along his cheeks, chin and neck, palms and wrists, and inner ear as he grew older. When young, he wore mainly brown furs along with his family mark on a chest harness, and when older, he was usually dressed in the royal black and gold with white trim.
---
Biography