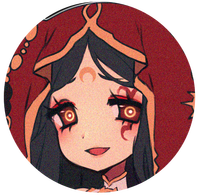 Profile
---
Blessing(s)
Asian water buffalo
Fitzroya
Red Azalea
Relationship Status
Married
---
Artemis has long, black hair, ivory skin, and red eyes with double pupils (somewhat target shaped). She has tattoos on her right leg, and over her left eye, as well as a crescent moon in the center of her forehead. Hr hair is usually worn in very ornate updos, to accentuate her large water buffalo horns.
When worn completely down, her hair will drag on the floor.
She almost always wears makeup, but ONLY red tones.
She's REALLY REALLY tall.
---
Artemis was born to a highly revered, wealthy family. She was raised to be very poised and elegant, but also intelligent and cunning. At 18, she was immediately wed to the eldest son of one of her Family's allies, Feng. The two were mutually unhappy about their arranged marriage, and deeply hated one another at first. Over time, though they began to bond more over their distaste for their families, and through this began to find more and more in common.
After many years, the two decided to revolt against their families, and create an empire of sorts of their own, marking the beginning of their clan
---
she calls Feng Fang when she wants to annoy him