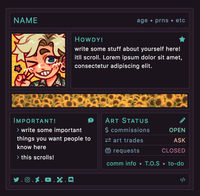 Profile
---
need help installing or editing? check here first.
NOTES
---
tiny little code, feel free to change the text size
RULES
---
please don't heavily reference or steal my codes
if you use my codes, please make sure the credit remains intact. i don't mind you moving it or changing the symbol, so long as it's easy to find.
please don't redistribute my paid codes
if you use my codes, i greatly appreciate it if you leave a comment on my forum post here! i just love to see when people use my codes, but there's no pressure.
feel free to frankenstein / combine my codes with other's codes, so long as their rules allow it and their credit remains intact
feel free to go apeshit with editing my codes! tear them apart, do whatever
if you're interested in recoding or distributing an edit of one of my codes ask me first.
if you run into any issues, please let me know! and as always thank you for using my codes