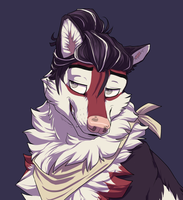 Profile
---
(Has some of my personality traits, but his own personality overall)

Info
Gender: Male
Species: Timber wolf x dragon
Powers:  Nova is partially a dragon(although it may not look like it at first glance). Despite looking completely like a regular wolf most of the time, he's able to breathe fire, and his fur is fire resistant.(similar to how scales on dragons are.)
Size: Slightly bigger than a regular timber wolf
Appearance: Slim but strong build, fluffy cheeks, fluffy tail, always has his hair in a man bun 
Accesories: Bandana (not optional)
Voice: Ryan Reynolds (DeadPool)
Personality traits: Confident, charismatic, enthusiastic, sarcastic, smart, extroverted, calm, collected, brave
Interests/hobbies: He loves listening to music, especially Rock(his fave genre) and sometimes hiphop. Nova is also a talented parkourist!! He has an interest in acting aswell, and he's quite good at it, although it's not his main passion!!

Song aesthetic: Rock, hiphop/pop ("Start a riot" by Duckwrth, "Crazy Train" by Ozzy Osbourne, "Welcome To The Jungle" by Guns N' Roses, "BLOW" by Ed Sheeran, Bruno Mars and Chris Stapleton.)

Facts
- He loves the smell of rain  

- Nova has a good sense of humor, and because of his charismatic personality, people laugh at his fun jokes/line deliveries
- Nova is an extrovert, so loves to meet new people. However, he's a really chill guy, and isn't loud or obnoxious
- He usually lets his loud, more crazy "personality" out at parties, or other special events.
- He's really protective, and if you even TRY to mess with his friends, you better watch out-
- He's able to handle stressful situations really well
- When he is angry, stressed or feels threatened, some dragon attributes may show (dragon whiskers, eyes, claws)