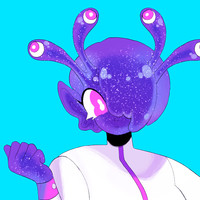 Profile
---
An Iu'husid-hu which seems determined to become a spacer, by her record of being off planet more than on. This mission isn't going to change that.

Early in the mission, she got ribbed for frequently forgetting to put in both false eyes in the morning, and was gifted extra by her coworkers. Now she frequently sports five of them - still leaving out one of the facial ones. Nobody actually notices that she only sports one ear.

She doesn't really care about keeping a human appearance - just the remrimands she would get if she didn't maintain it. Doesn't mean she has to do a good job keeping a constant shape, though.