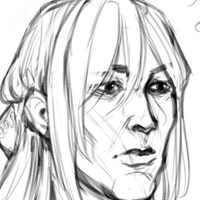 Profile
---
Ilya the Pale Vulture
---
BASIC INFORMATION
---
Full name | Ilya
Also known as | The Pale Vulture, Ghost Vulture, Pale Monster, Bloody Vulture
Age | Around his 30 years old
Gender | Male | Masculine or neutral pronouns
Height | 1,82m // 6' 0''
Race | Human
Sexual orientation | Homosexual
Connections | The Hunter's Dream, Yharnam city
Languages | Common
Class | Hunter
Occupation | Veteran hunter, and very guiding the new hunters to their first missions. However, he's a member of a covenant that hunts down hunters that begin to go insane from bloodlust or begin to turn into beasts themselves.
STATS
GENERAL STATUS
Retrograde Amnesia | Chronic condition | He doesn

'

t remember anything from his past. Sometimes he has hints, vague sensations, but not far from it.
Albinism | Chronic condition | 

His endurance towards intense light sources is limitated.



GENERAL SKILLS
First aid




Dual-wielding




Tailoring


Riding



APPEARANCE
---
Ilya look like a middle-aged man of really pale skin and long hair due to his albino condition, also lacking of any beard. He has a melancholic, heart-shaped face, with well pronounced cheekbones, reddish lips and narrow chin, with notorious dark circles under his grey eyes. At first glance is noticeable some shallow scars across his right cheek, lips and lower jaw to the neck. He has 

skinny build, 

long-bony fingers and long legs.
OUTFITS
Bloody Vulture attire 

| A
R | N
NOTABLE ITEMS
Ruby necklace 

| A tear-shaped ruby ornamented with rusty-gold swirls, and hung on a chain. It was the gift of a gentle hunter to Ilya.




R| O
PERSONALITY 
---
Definitely, Ilya has a peculiar personality. At first he seems to be a cold, emotionless man, but that is far from the reality; He's attentive, and emphatic, but his way to show it is still limited, dainty. 
BIOGRAPHY 
---
HUNTER'S DREAM ARRIVAL
S
PRESENT
S
LIKES AND HOBBIES
---
Human warmth. Is not strange to find him trying to rub hands with another person just to feel their warmth. 

Tailoring is one of his biggest hobbies, having in consideration there is not quite much to do when you are a hunter living the nightmare. However that skill is useful for repairing his clothing, and sometimes his companions

'.

He has a particular interest in clothes, specially colourful or femenine ones.

If during his explorations into buildings founds some, he would expend time looking forward to pick some for him.
DISLIKES
---
Watching people suffering. Specially children and elderly people. 

Foul smells.

O
EXTRA
---
Very often other hunters mocks about his appearance, as his albino skin, white hair, grey eyes and lack of lively emotions are compared to The Doll

'

s appearance.

His strength is very poor, such as his weight. Due to that fact, he avoids using heavy weapons. However he covers the lack of strength with vertiginous speed and movements and a good eye to spot the weak points of his enemies, supporting all of this wielding light, sharp weapons instead.

His voice is low and melodius, and his accent is strong; specially notorious when pronouncing the strong R, or missing consonants in complex pronunciations, as he is a foreigner.

Ilya is an intersexual male. His very on case is about to have his male organs -such as testicles- not developed and inside his body, and externally has regular feminine organs, with a clitoris-like penis of small size. These also are his fuctionals sexual organs.
QUOTES
---
'I saw my own companions, with whom I shared table at dinner turn into monsters. Monsters I had to free from their madness to guide them to the skies...' 


'Do you really know... who you are?

' 

 
'I am starting to forget when I dream, Eileen. Maybe, just maybe... my time to finally rest is close.

' 

 

—To Eileen the Crow.


'Do you still dream?

' 

 




RELATIONSHIPS
---
The Doll

 

| Considering her as a relative. Ilya also refers to her as 'Dollee

'

.
Gehrman | Leader
Eileen the Crow | Close friend, former mentor