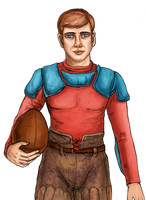 Profile
---
✦ About
Tom is one of the potential love interests in "Sam in New York."
Tom acts as Sam's foil in many different ways: while Sam is talkative, over the top, obsessed with the theatre, and isn't sure what he really wants to do with his life despite being in law school, Tom is calm, collected, and focused on academics as well as athletics.   
Tom and his brother Herman are of mixed Aleut, Russian, and English descent. His father, Fred, is 3/4 Aleut, and 1/4 Russian, while his mother, Charlotte, is of English descent. 
The Melbournes' Russian ancestor, Innokenti Vladimirovich Mayakov (which was later anglicized to "Melbourne"), was a fur trader who settled in the Aleutian Islands and married into the Aleutian culture. 
Tom's Aleut name, given to him by his father, is Hakuugii, "being above the seashore." His brother Herman's Aleut name is Ataqan, or "one."
The Melbournes hail from a small town in Alaska, Unalaska, the biggest city in the Aleutian Islands.   
Read more about Tom here on our website: https://www.fortunusgames.com/post/tom-melbourne
✦ Appearance
Tom stands around 172 cm tall. 
✦ Likes
Kayaking, hiking, American football/rugby
Meeting new people
Writing, research, debate
People who stick out and go against the grain (in a good way)
✦ Dislikes
Judgmental and narrow-minded people
People who aren't open to new experiences and are closed off to meeting new people
Being forced to do something he doesn't agree with
Being far away from his loved ones for too long
✦ Relationships
| | |
| --- | --- |
| Sam Abramov | One of the first friends Tom makes at Ambrose Law School. Eventually, Sam can pursue Sam as a love interest. Tom does develop a crush on Sam before Sam can choose to pursue him, thinking that Sam is a really unique and fun guy. |
| Frederick and Charlotte Melbourne | His parents. Tom is very close with his parents and they all enjoy doing outdoors activities with each other.  |
| Herman Melbourne | Tom's younger brother, who is younger than him by a year. An engineering student at Lincoln College, Herman is just as competitive and athletic as Tom.  |
✦ Trivia
● Tom has helped his father build a traditional Aleut kayak from scratch
● In the modern AU, Tom would also enjoy mountain biking
● Tom and his brother Herman are competitive with one another but also very close 
● Tom is an Orthodox Christian but he also has some Aleut pre-Christian beliefs
profile html by Hukiolukio