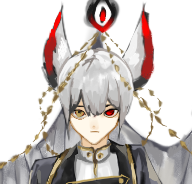 Created

1 year, 7 months ago

Favorites
Profile
---
HUNTER PROFILE
Full Name
Sankta Ark d-Laharl
Statistics
Strength | Dexterity | Constitution
Intelligence | Wisdom | Charisma
AVERAGE
EXCELLENT
AVERAGE
About
Unlike V, Sankta is a descendant of a higher being: beastkin. Warlocks gain their magic by the power of their patrons whilst Sankta had his magic flown throughout his body; As natural as his own beastkin bloodline. Yet he couldn't control it. This became the reason on why he would join the Neverhunter guild (A guild dedicated to dealing information) later.
Personality
A description of their personality.
---
Mannerisms
Patterns in behavior, such as ticks, habits, addictions, or quirks.
---
Speech
Recorded patterns in communication.
Fall from Grace.

Sankta was the result of an affair between two Gods. In order to keep their adultery a secret, his biological parents decided to threw him away to earthーMaking Sankta fallen from grace since he was a baby. Baby Sankta was delivered to a family of two single (idiot) hunters whom resides in a tiny cottage deep in the woodsーThrough the chimney.

Hunter A: "It ain't even Christmas, why does Santa show himself in our cottage?"

Hunter B: "Idiot! This kid ain't even got a beard!"

Hunter A: "But we need a name to call him, don't we? He has white hair and came through the chimney."

Hunter B: "Alright, we'll call this kid 'Sankta'."

Childhood.

Growing up with two loving dads who used his tail as a match to light up their fires and taught him to hunt, Sankta grew up as a decent hunter. He still had no clue on what he truly was, until he hit his pubertyーThat's when Sankta's life starts going into a different path than he would imagine.

Puberty.

On his puberty, Sankta will have the "cycle" similar to a woman's menstrual cycle, or an omega in heat. Every month, his body will be covered by "marks" for a week straight. These "marks" will make Sankta's body feels overwhelmingly hot, as if he was burned in hell fire itself. As Sankta couldn't withstand the heat inside of his body, he projected the heat outsideーWhich turns into "flames" and fire balls. He would hit anything and wouldn't remember a thing after, as the only thing that he wanted is just to be free of its torture in the inside of his body.

The first time he experienced his "cycle", Sankta had burn half of the forest and everything inside of it, including his home. One of his dads even tried to calmed him down, yet it was for naught. Sankta had burned him aliveーLeaving his other dad devastated and fear for his own life. As the living dad expressed his disgust and anger towards his former son, whom he called 'a curse'ーSankta decided to go far awayーIn order not to burn off his other dad once he hit his "cycle" again and to search for a way to cure his 'curse'.

Before Neverhunter.

Before joining Neverhunter, Sankta was mostly seen in libraries or secret tombs, searching for forbidden grimoires and ancient scrolls, in hopes one of them had an explanation on how to cure his so called 'curse'. On one of his travels, he'd heard of a guild that deals solely with information. Sankta hoped by becoming one of its members, he would finally find the answer he's been looking for.
A summary of their fighting style.
---
Primary - Weapon
How they use their primary weapon.
---
Secondary - Weapon
How they use their secondary weapon.
---
Abilities
Additional abilities, or weaponless fighting.
This user's characters, art, stories, and other personal creations are protected under copyright law.
Any unauthorized use, reproduction, or redistribution will be met with the appropriate legal action.