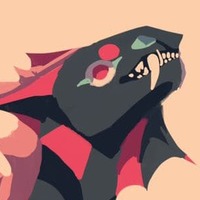 Profile
---
Ragnor | Drake | Non Binary / masculine
Body type: feral, on all fours. Long body and tail.
Fur: Charcoal, red, salmon, yellow and pistachio.
Hands: pistachio green. No claws. Black full palm pawpads.
Hair/mane: salmon. Long and flowy.
Eyes: yellow "whites," red iris
Flesh: green
Extras: frills underneath chin. Artist/designer also unknown.
Ragnor is a feral drake with supposed eastern origin. His teeth are always showing and eyes wide and circular.
Ragnor can be drawn both feral and anthro. If drawn anthro, I prefer plantigrade and sticking to a tall and fit body type. Teeth showing are much preferred.
Design credit unknown.