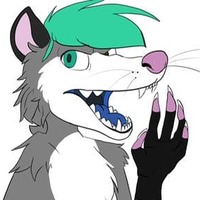 Profile
---
Ricky | Opossum | Male
Body type: tall and lanky
Fur: gray, black and white
Hands, feet and tail: flesh pink. Wears fingerless gloves.
Hair: bright turquoise
Eyes: heterochromia—green and brown. Nicked eyebrow on his left (your right)
Flesh: dark blue
Extras: piercings on his left (your right) ear.
Ricky is the definition of a punk, more so than toka. He is typically seen grumpy and showing at least a few teeth.
Ricky is plantigrade. I prefer him drawn in grumpy expressions and showing teeth if possible.
Original design credit unknown. Redesign by Felistellar.