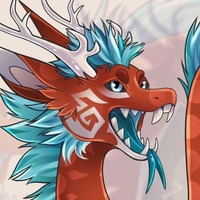 Profile
---
Wyndham | Eastern Dragon | Female
Body type: long body, neck and tail. Slim yet fit arms and legs.
Fur: red, black, white with lighter red markings
Hair/mane: aqua. Extends from top of the head all the way to the base of the tail along the spine, then a small patch near the center (also along spine), then a poof at the tip. Elbows and shoulders also have the same long fur.
Hands: wrapped with long, white bandages. No pawpads.
Eyes: black eyes with aqua blue iris
Flesh: grayish blue
Wyndham is an elemental dragon for lightning and weather. She is wise, yet has an odd sense of humor—usually when it comes to pyrotechnics. Most fires caused by lightning are from her.
Design credit: HeroicVillian on Instagram