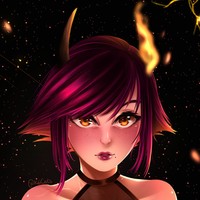 Basic Info
---
Alias connus / Known names

Ruby
Profile
---
Catnixi est une demi démone demi succube. Sa corne gauche ainsi que sa queue sont toujours enflammés.
Elle adore la lingerie sexy, mais si elle venais a porter des vêtements mignons, elle serait embarrassée jusqu'à cacher son visage dans ses mains >\\<
Elle adore le rouge et le noir, surtout pour ses vetements. 👗
Son plat favoris est la tarte sablée à la fraise. 🍰
Elle peut également utiliser des sorts de foudre, mais uniquement de la main droite.
Elle a été impliquée dans une tentative d'invocation d'un démon depuis Borelius Delta, résultant a la fusion du démon invoqué avec elle et Vivianne
Etant lié a Vivianne, elle cherche a briser cette malédiction.
---
Catnixi is half succubus and demon, her left horn always burning and her tail too.
She loves sexy underwears but if she wears cute clothes like dress, she will be embarrassed and will hide her face >\\<
She loves red, and black colors, especially for clothes 👗
Funfact her favorite meal is the short strawberry cake 🍰
She also have an affinity with thunder that she can only use with her right hand.
She had been involved in a failed summoning ritual initiated from Borelius Delta, where the summoned demon merged with her and Vivianne
Being linked to Vivianne, she now try to break the curse.