Latest Bulletin
---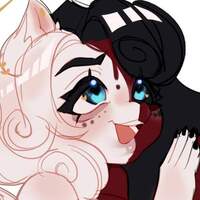 INDEX
╔═══════ ≪ •❈• ≫ ═══════╗
- T.O.S
- Auctions
- Adopts
- Custooms
- Payament plans
- P2U Bases
- Commissions
- Holds
╚═══════ ≪ •❈• ≫ ═══════╝
BASIC TOS
- credit correctly if art or character is used
- Do not steal
- do not resurface / trace
- do not use as own art
---
ADOPTS RULES
AUCTIONED DESIGN STANDARDS- you can change the gender of the oc
- you can vary some details but do not change the design until it is unrecognizable
- you can exchange, give away or exchange for art.
-you can always resell and when it is for the same value or less, or in case of a higher price if it is justified by art.
- Do not use the design to create your own adopts
- commercial use is not included, contact me if you want to use it that way and we will talk about the additional fee according to your objective (this includes vtubers)
---
AUCTIONS RULES
AUCTION RULESSB: initial offer, minimum
MI : minimum increase
AB : automatic purchase
AB 1, 2 ... : extras- Offer only if you are sure and only what you have
-You can only do one ab , if another user has already do ab , you can't do AB 1.....
- Before paying once to do ab you can later decide to raise ab1 , ab 2 ...
- Only do ab in the publication if you have the money, if you want to make payment plans you must first contact me.
- The auctions are published in more than one of my social networks for which I ask for a certain order:
- Answer the "bid her" to do the sb
- Always answer the last offer and tag the previous user, it is not necessary to tag other participating users if they are not the highest previous offer you are beating.
- In the case of facebook you should always post in the original post if you have come from a group
- any type of comment that annoys other participants will cause a block.
- messy offers will be ignored, deleted, hidden...
-Private offers are accepted through dm, but keep in mind that I will not update you if they exceed it, it is your responsibility to be attentive if you make a private offer.
- the auction ends after 24h of the last offer
- You have 24 hours to pay.
- do not withdraw / delete your offer
-Do not use the auctioned art as a base.
-All my adoptions at auction have a TH, if you don't have one, I can provide you with a free code to create your account.
---
CUSTOM RULES
ABOUT THE CHARACTER- you can change the gender of the oc later
- you can vary some details but do not change the design until it is unrecognizable
- you can exchange, give away or exchange for art.
-you can always resell and when it is for the same value or less, or in case of a higher price if it is justified by art.
- Do not use the design to create your own adopts
- commercial use is not included, contact me if you want to use it that way and we will talk about the additional fee according to your objective (this includes vtubers)
-All my adoptions at auction have a TH, if you don't have one, I can provide you with a free code to create your account.ABOUT THE ORDER
The rules are the same as the commissioner's.
These may take longer since creating a design is more complicated to achieve what you want.
You do not need to come to me with a totally specific idea, do not back down if you only have a vague idea of what you want to have, I will encourage you to get more ideas or I will ask you questions to further define your tastes! I do not bite do not hesitate to ask or throw me a lot of random images and tell me; "I don't know what I want, but take this!"If you come with a specific idea make sure you have your ideas in order , I do not mind big wording but make sure you follow an order and add guide images , even if they are not concrete along with your descriptions .
---
PAYAMENT PLANS
Payment plans are available as long as I don't have too many of them on my schedule: 10 is the maximum number of plans I accept, 3 per person.I prefer short , weekly payment plans . But i can also accept the monthly ones if the monthly payment exceeds 50 usd.-Failure to make 2 payments or late payments can cause you time without being allowed to request payment plans. Please make sure you can continue with them, I do not make returns!︿︿︿︿︿︿︿︿︿︿︿︿︿︿︿︿︿︿PAYMENT PLANS IN ADOPTSThe payment plans in my adopts will always be available from ab 1 if it exceeds 100 usd. But don't forget that before doing AB you should contact me to find out if I can accept the plan or not, also to agree on the payment dates and duration.︿︿︿︿︿︿︿︿︿︿︿︿︿︿︿︿︿︿PRECLAIMSHave you seen a previous adoption that made you fall in love? , the preclaim is the option to grab a character before it goes up for auction , it also works as an ab and it always includes the option to get extra images in the reference . The preclaim payment plans are reserved only for those extras, to make a preclaim make sure you have the money for the fixed adoption (the fullbody that is titled as "preclaim"). But if you don't have the money for the extras and prefer to pay for them in a payment plan the option will be available!
︿︿︿︿︿︿︿︿︿︿︿︿︿︿︿︿︿︿PAYMENT PLANS IN COMMISSIONS OR CUSTOMSI do not make payment plans in commissions that are not above 150 usd.
---
BASES P2U
- Accreditation: Make sure you correctly credit the base and add both my name and your signature as the creator of the oc, do not hesitate to tag me if you use it, it is very appreciated to see how they use it!- NO tracing : you can edit light parts of the line to get a good finish, also add your own features hairstyles and clothes, but don't redo the line from scratch.- Sale to third parties: You cannot sell this base as yours! but if it is possible to buy it and give it to another user or artist, just contact me for it.-Use: My p2u bases are designed to make adopts, also for personal use and create personal references, customs etc, the only thing I do not allow is to use it to make your own commissions.
---
COMMISSIONS
My commissions bring a wide range of options but most will get the same rules if it is not specified in the specific information.- I do not make refunds, in any case, if for some reason or another you want to cancel it or you think I am taking too long, contact me! Before you get on your nerves , think that I do not work for this and my time is limited , but if it takes too long I have no problem exchanging the value of your commission for a ticket worth the amount spent for one of my adopts , an oc already available at my th or a ticket for one of my ych . But, in no case do I return the money.You can also change your commission under certain requirements.-Until the sketch is sent, you can change the character and the commission (as long as it has the same value or the missing amount is paid in case you want to do something that is worth more than what was previously paid)-The change from nsfw to non-nfsw is not allowed, on the contrary yes (as long as it has the same value or the missing amount is paid in case you want to do something that is worth more than what was previously paid)- Only those over 18 years of age can request nsfw, this includes lingerie. In case of non-compliance I am not responsible and in case of finding out you will be blocked and sent to my blacklist- Discounts: I like that they ask me for commissions of my own designs or customs and if you ask me for a commission for one of my adopts, use the following sticker to activate a discount of 5 to 10 usd according to the commission: 💎 if this sticker is not used I will not apply the discount since I will be aware that I have not read the rules.
---
HOLDS
The duration of the hold in adopts is one week maximum!The duration of the holds in art trades is a maximum of one month!
OTER ARTIST :
If you like these rules , agree and want to use them so as not to write your own , use the link :3 I have no problem .TOS BY AYEL_ART
Recent Characters & Designs
---