Alex or Spin|He/him|Bigender|Lesbian 
I just like overly saturated furries and needed a place to put art I bought of mine.
Assume all my characters are NB-spec unless stated otherwise. Please respect this. 
Please don't offer on any characters outside of my for sale folder, I very rarely part with any adoptables I buy. All of my Skymachine designs are forever homed.
Latest Bulletin
---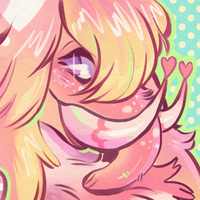 Please take the time to read my full TOS if you are interested in commissioning me, but to list a few basics:
WILL draw
Furries/Anthros

SFW  Ferals

Pokemon

SFW My Little Ponies

Animal like monsters/kaijus/etc

Plushies/pooltoys

SIMPLE mecha/armor (EX. Cyborgs, robot prosthetics, FNAF-style animatronics, most fantasy armor, simple robots like Mettaton EX or G1 Transformers.) Note: all mecha/armor incurs a complexity fee.

Couple art (costs base pricex2)

Fanart

Candy/cutesy gore - no real gore or realistic colors. 

Nudity

NSFW

Some fetishes, please see the link in my full TOS for what I'll draw.    


WON'T draw
Humans/Humanoids (if it has a human face, I can't draw it.)

EXCEPTION: Though unsure how much of a market on Toyhouse there is for it I will draw humanoid Undertale characters ! Not the actual human kids, but humanoid characters like Undyne and Mettaton.

Complex mecha designs (ex. Movie-verse Transformers)

Hate art

Sonic the Hedgehog/Sonic OCs (Nothing against the fandom, just don't much like the art style. If you'd like me to draw your Sonic character in my style, then I'd be fine with it.)

Realistic gore

Plush gore

Backgrounds (props are fine)

Custom designs

"Psycho"/insane edgy characters. Edgy and scary characters are fine as long as your reasoning for them being like that isn't that they're "insane" or "psycho". I am a schizophrenic, this stereotype severely hurts me and people like me. I will not contribute to a stereotype that marginalizes people like me.

Feral cats getting harmed, or feral cats where bodily harm is a part of their design. Things like zombie cats, blood and organs sticking out, etc. Things like eyepatches, stitches, prosthetics are perfectly fine. It's only feral cats I refuse to do this type of art with - it's a really big trigger. Any other species, even anthro cats, I'm fine with.



Other basics:

Payments are taken by Paypal invoice ONLY.

I reserve the right to use any art commissioned from me in advertisements, and to post to any art profile I want to. I do not like doing "secret" commissions. I will never sell commissioned artwork featuring OCs I down own as prints or other merch, I will only use it for advertising and portfolio purposes.

Must be of age to order NSFW art, I won't hound you for an ID or anything but please don't betray my trust.

You may repost art to your FurAffinity page, Toyhouse, Twitter, etc. WITH CREDIT. Please credit me to the relevant account if you do post it anywhere (ex. If you post to FA, credit my FA, if you post to Twitter, credit my twitter.)

Art will not be started on until I receive full payment. I do not do sketch first payment later, or payment in installments.

Extra fees may be charged for: complexity, rush jobs (giving me less than a week to work), or deadlines where said deadline is less than 3 weeks away. The fee will vary based on whatever factors I'm faced with, but will never charge more than +20$ for a single character piece, or +30$ for a couple piece.

All characters must have a visual reference to draw from. This does not have to be a full ref sheet or anything fancy, just a piece of art that shows off your design and colors. No written descriptions, no exceptions.

When linking your Toyhouse page as a ref, if you have watermarks turned on, please give me an access key or otherwise unwatermarked image. Default huge Toyhouse watermarks are very hard to work around.

The only WIP stage I share is the initial sketch, sharing more than that heavily disrupts my workflow. Once you receive the initial sketch you have one(1) week to confirm it - if you do not confirm it within a week the sketch will be finalized as is. And you will have no opportunity to ask for changes.

Standard wait time for all art is 2-4 weeks. Please be patient, if you are an inpatient person who's going to be messaging me every other day asking for updates/where you are in the queue list - you're probably better off finding another artist.


Recent Characters & Designs
---