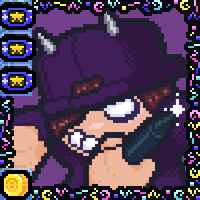 CocoKiCKZ
---
Illustrator . Twitch Streamer . Jack of All Trades
---
"Challenge me!!!"

My name is Chris, but everyone knows me as my online persona - Coco. I stream on Twitch on a regular basis as a hobby, constantly challenging my artistic skills and drawing for you for free. Other than that, I love learning new skills and applying them whenever I can.
---
Latest Bulletin
---
Hi guys! It's been a while since I posted an update on TH
Progress has been slow, mainly due to the downtimes that had been happening here in TH, and not to mention personal stuff too.
Regardless, I moved all the important stuff that needed to be taken care of and its safe to say- due to high demand, I have decided to once again show most of my OCs but only to close friends.
Take in mind though, some of these OCs will have the 'WIP' tag, which their bio or design may not be final.
When OCs are updated, they will display the changelog in them, which I will include a 'WIP TAG REMOVED'.
---
MASSIVE REWORK ON 98% OF MY OCS IS STILL HAPPENING
They will become hidden to the public 
BUT, I moved all spoiler worthy information to a different tab :3
ONLY CLOSE FRIENDS WILL NOW HAVE ACCESS TO MOST OF MY OCS

An OC is available to the public WITHOUT any of the following tags attached to them:
- Any [WIP] Tags
- Any [Redesign] Tags (IF MAJOR)
- [EDIT RN] Tag


Need info update of one of my OCs? Feel free to ask!
I may just rework their image in general, or It may be a full fledge revamp!