CECIL • HE/THEY • 21
Howdy! The name's Cecil. I'm an albino snake boy who runs the Crescent Moon Curiosity Shop!
Currently working some rebranding as well as getting owed art done and sent. But also my life is chaos and I honestly don't know what I'm doing either. Feel free to hit me up if you want to chat.
Latest Bulletin
---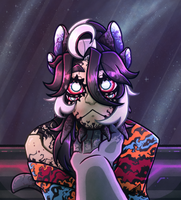 Hello everyone! Thought I'd announce that I'll be doing a character design stream Sunday 8/8 at aroung 6pm CST. I want to do a character design where others are able to give input on the character live as I work on them. The character I am making is an Alien Cactus accidently given a humanoid form by Cecil.

Here is a link to my Twitch where I'll be streaming pretty much when I can!

Here is the first concept of their cactus form!

Recent Characters & Designs
---