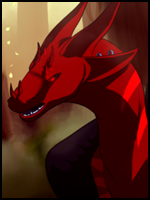 ---
Acientus hold an unconditional love for Skrenva. He absolutely adores just about every part of her, from her individuality to how he know he's the only one that can foment some kind of affectionate nature from her. He can see the pain she's feeling, even when she does her best to keep it hidden.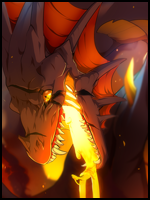 ---
Siun is Infergo's everything. This might also be the reason behind his obsession with the younger dragon - And why he struggles differentiating between obsession and love. He's overly protective of Siun, doing everything in his might to protect him but fails to see when he himself is the cause of the smaller's misery. He love Siun with all his heart, and is doing everything to make sure Siun feel the same about him. Even if he sometimes become a bit too assertive.
---
Siun love Infergo, though he started to love him thinking he was someone else. Feeling great guilt for this he couldn't even bear to break up with the guy or tell him, so he chose to stick with Infergo, slowly but steadily getting feelings for him.