Flitt
She/her . Artist . Writer
Just a lil artist and writer with too many characters and ideas that'll probably never get written.
TW: A lot of my characters deal with mental health, gore and violence. Zipperjack is pretty much the only untraumatised one.
I know I have over 100 characters, but I'm not a character hoarder. I just have too many worlds to fill and too many OC ideas. Everyone will get lore when I have time and motivation.
---------------------------------
I highly appreciate any art of my characters and you may draw them without having to ask first. I may even draw for you in return >:)
Most characters have dos and don'ts, but the basics are: Do change outfits, gijinka, draw with my other OCs, draw with fandom characters (Ask abt fandom though). Don't nsfw or genderbend please.
---------------------------------
|
Latest Bulletin
---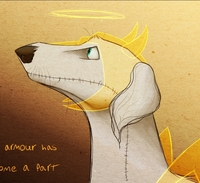 DOOR IS CLOSED (For catching up)
As you walk through the village, you find a door that's slight ajar, light pouring out. Pinned to the door is a sign saying "Trick or treat".
Treat: Random character, maybe a doodle of your character
Trick: MEMES
Note: There's a two day cooldown before you can come back again. 
(Art will take a while because I got sick -_-)
Recent Characters & Designs
---